Call Us, Toll FREE at (866) 491-3536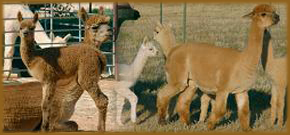 We are pleased to offer a selection of Maiden Females and Female Crias:
Dark Fawn, FemaleDOB: 3/14/2012

Sire: Snowmass Matrix Freedom Sire: Snowmasss Matrix S: Snowmass Quechua S: 6Peruvian Accoyo Elite D: Snowmass Maree Love S: Peruvian Hemingway D: Peruvian Lace
D: Snowmass Legacy's Lass S: 4Peruvian Legacy D: Little Miss Jennifer S: PPPeruvian Cahuide D: Bueno's Margarita
Dam: Snowmass Lady Liberty S: Snowmass Royal Reserve S: Snowmass Royal Rose S: Peruvian Hemingway D: Snowmass Rose Pearl
D: Snowmass Cangalli Rose S: Peruvian Snowmaster D: 5Peruvian Cangali
D: Snowmass EVOQ S: 5Peruvian Chaccu

D: PPPeruvian Marylu

Dam: Aviator's Aurora

Sire: High Plains Aviator (Dual Registry: US/Canada)

Sire: HFL Super Sam (DualRegistry:US/Canada) Dam: HP Avia

Dam: Sunny Mesa's Augusta

Sire: MFI Brock

Sire: PPPeruvian Augusto

Sire: PPeruvian Leon

Dam: Columbia River's Summer Rain

Sire: PPeruvian Guido

Born in Spring 2012, Belle is one of Freedom's first crop of crias at TLA. As you can see from her genetic background, Belle has some spectacular ancestry, which provides her with high potential as an individual and as a breeder. Her compact size is reminiscent of both her parents. Belle's fleece qualities follow her Dam in color, and her sire, Freedom, in fineness, brightness and consistency. She has a high frequency, moderate amplitude crimp style which shows well, and processes easily into high quality yarns. Belle is currently an open maiden, and we plan a Spring 2017 breeding to our Incan Maxxx.

Tuscan's White Rose di Bella Vita


Beige, FemaleDOB: 09/21/2014


Sire: Sunny Mesa's Tuscan Gold
Sire: MFI Brock
S: PPPeruvian Augusto 6009
D: PRA Belinda
S: PPeruvian Leon G4560
D: Peruvian Gabriela W919


Dam: Lionheart's Fawn




S: 4Peruvian Starr Khan 6003

D: Derwydd Peruvian Coya

S: Peruvian Hemingway G171

D: PPeruvian Elvira B4221

Dam: Demi Rose

S: FRA Royal Rose's Maximum S: Snowmass Royal Rose S: Peruvian Hemingway G171 D: Snowmass Rose Pearl D: CCNF Starlight Angel S: CCNF Archangel D: Snowmass Starlight D: Peruvian Demetria S: Xanadu P. Tabriz S: Peruvian Presidio D: 5Peruvian Dona Jaci 8600 D: FRA Peruvian Athena S: Peruvian Olympus D: Wishes & Hemingway's Tiffany

We bought Demi Rose with White Rose at her side. What an opportunity to add excellent females to our herd. White Rose exhibits very fine fleece with well definedarchitecture. We also appreciate her gentle demeanor. We plan a Spring 2017 breeding for White Rose with our Snowmass Matrix Freedom.