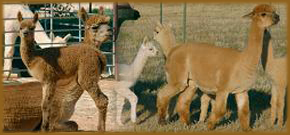 Alpaca Resources

Welcome to our Alpaca Resources Page. Finding a reliable shearer, veterinarian, or product supplier, can be challenging on a good day. Below is a listing of resources we have used, or have worked with over the years. They have been a good match for us, and we hope they will be for you, as well. Be sure to check out the STAR/MAAF Scholarship listing for Veterinarian students at Texas A&M.
Alpaca Shearer:

John Gunther, professional shearer


John Gunther is a young man with a vision. At "20-something," John has been shearing for over 10 years. John lives and works on his family's sheep farm in Ohio, and has decided to concentrate his shearing business on Alpacas since 2004. John brings a crew of assistants for shearing, and is very mindful of bio-security. Being self-trained, John has developed his own method of shearing that works well with sorting systems, and has trained multiple crews in his shearing technique. Call Rachel, John's mother, for scheduling information.

(330) 378-5150

http://www.shearingalpaca.com

johnbrian@shearingalpaca.com
Alpaca Shearer:

Jamie Jones, professional shearer


Jamie Jones is one of the shearers trained by Mark Loffhagen. Jamie has been shearing on his own since the 2003 season. He also works well with the fiber sorters. Jamie is in demand, so get on the list early. Call Jamie to schedule a shearing, or for more information.


(812) 499-5148

Alpaca Veterinarian:

Dr. Dan Turner


Dr. Turner cares for our herd from his office at Risinger Veterinary Hospital in Terrell, Texas. As a mixed practice vet, Dr. Turner can cover most Alpaca medical care issues, and can recommend specialists when necessary. We are very pleased with the care Dr. Turner has delivered, and recommend him for other alpaca ranches in the area.


(972) 563-3305

551 FM 146, Terrell, Texas 75160
Alpaca Veterinarian:

Dr. Ben Buchanan is a veterinary specialist in the Navasota, Texas area. A graduate of Texas A&M in 2001, and in practice since then, Dr. Buchanan began seeing alpacas in 2008 and has gained specific skills in diagnosis of alpaca disease, intensive care and emergency service, and surgery if necessary. Dr. Ben Buchanan's office is located at the Brazos Valley Equine Hospital in Navasota, Texas.

(936) 825-2197

6999 Hwy. 6, Navasota, Texas 77866
Alpaca Veterinarian:

Dr. John Walla


Dr. John Walla is a mixed animal practice vet in the Navasota, Texas area. He covers many of the Alpaca herds in his area. Dr. Walla can diagnose and treat most Alpaca medical issues, or can recommend specialists when necessary. Dr. John Walla has an office at South Central Veterinary Services in Navasota, Texas.

(936) 870-4033

502 E Washington Ave., Navasota, Texas 77868
Alpaca Ranching Supplies:

Quality Llama and Alpaca Products


Mail order supply company with a little bit of everything you might need for an Alpaca ranch. You might have met these folks at the last show you attended, or have ordered from their website. Check it out for new items or that missing tool you needed since last year.

https://secure.llamaproducts.com/
NuZu Feeds

We have used NuZu Alpaca Omega Fiber Feed for several years, since meeting the Owner/Nutritionist at the MOPACA show in 2011. We are very pleased with the feed and the results we have noticed in the alpacas. The folks at NuZu are very knowledgeable and helpful when it comes to alpaca nutrition. Send them an email for a free sample.

(815) 732-3338


http://nuzufeed.com
Natur's Way

We use MSE Probiotic products, exclusively. We add the powdered MSE to each bowl of feed everyday. When we feel an animal might become stressed by travel, breeding or birthing, we use the liquid product. Their paste product is handy for travel and shows. Natur's Way also has a helpful newsletter for alpaca owners.

(800) 615-0299


http://naturs-way.netfirms.com
Mineral Suppelements:




Cache La Poudre Minerals

We have used these minerals for several years with good success. They are designed for use with specific grass/hay forages. The folks at Cache La Poudre are very helpful determining which mixture is best for your application.

(800) 758-0825

http://www.clpminerals.com
Spalding Labs

We have used fly predators to control biting Stable Flies in our paddocks and shelters. These tiny beneficial insects are attracted to one thing, and one thing, alone: Stable Flies. We receive a new shipment every four weeks during the "season" and have been able to completely control the biting flies without pesticides. The folks at Spalding Labs can help you over the phone to identify the flies causing your problems and suggest solutions.


(888) 880-1579


http://www.spalding-labs.com
Scholarship developed by STAR to support Veterinary Students at TAMU


STAR and the Mid-America Alpaca Foundation


The State of Texas Alpaca Ranchers (STAR) in partnership with the Mid-America Alpaca Foundation (MAAF) funded an "externship," or scholarship for a vet student to gain valuable experience working directly with an alpaca vet. The agreement was established in early 2011 and funded by STAR in March of that year. Since STAR closed their operation, MAAF is continuing the scholarship with their own funds. The student will arrange to work directly with a practicing vet who routinely treats alpacas.