Call Us, Toll FREE at (866) 491-3536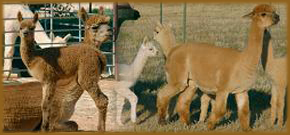 Snowmass Chaccoyo - Deceased

DOB: 8/28/2003Deceased: 8/1/2010
Beige, Proven Male S: Snowmass Legacy Gold S: 4Peruvian Legacy D: Neve's Lua D: Snowmass Victorian Dream S: 5Peruvian Chaccu D: Snowmass Victorian Glow S: PPeruvian Victor D: Snowmass Golden Glow


The day Chaccoyo arrived home from the Making of Champions auction in Arizona, was a special day, indeed. Our breeding program took a leap forward that day, and we knew it. In the following two years, Chaccoyo bred with our top females, producing the cream of our crop.

Saddly, we lost Chaccoyo on August 1, 2010. He will be missed in the worst way. Following on Chaccoyo's heels we have acquired a new herdsire, Snowmass Matrix Freedom. Anyone with banked breedings can have a full refund or choose to use their breeding with Freedom.


The photos below are Chaccoyo's progeny on our ranch, from the top, Chaccoyo's Highland Lass (Lassie), and Chaccoyo's Bonny Lass (Bonny). The last cria we have, bottom right, is Pacu Chaccoyo (Pacu), a male so wonderful we plan to use him to replace Chaccoyo in our program.