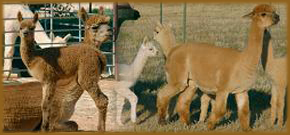 Breeding Seed Stock Females, Page 2
We are pleased to offer another selection of Seed Stock Females:
White, Female DOB: 09/27/2012


Sire: FRA Royal Rose's Maximum
S: Snowmasss Royal Rose
S: Peruvian Hemingway G171 D: Snowmass Rose Pearl
S: Peruvian Bueno G173
D: Snowmass Silver Pearl
D: CCNF Starlight Angel
S: CCNF Archangel
S: Snowmass Legacy Gold D: Abigail Williams D: Snowmass Starlight S: Peruvian Snowmaster D: Snowmass Starlit Snow Dam: Peruvian Demetria
S: Xanadu P. Tabriz
S: Peruvian Presidio
S: PPeruvian Caligula G4572
D: PPPeruvian Senna 5071
D: 5Peruvian Dona Jaci 8600 D: FRA Peruvian Athena
S: Peruvian Olympus
S: Peruvian Drambuie G220 D: Peruvian Vicunalea W871
D: Wishes & Hemingway's Tiffany
S: Peruvian Hemingway G171
D: PPPeruvian Wishes 4839
We began a search for females, specifically compatible with our Snowmass Matrix Freedom. His characteristics are impressive, and we intended to incorporate similarly recognizable character from another line of genetics. From the first time we met Chuck and Deb Powers, we were drawn to the quality of animals they seemed to bring to every show. So, after several years of repeated conversations between ourselves, we finally pulled the trigger and brought some females from the Powers' herd to Texas. This female, Demi Rose, came to us with a female cria at side, named Tuscan's White Rose di Bella Vita. Long name, wonderful cria (check out that pedigree)! Demi Rose lost her breeding after the long trip from Colorado and the new (hot) encviroinment in Texas. She is currently beinfg rebred for a Spring 2018 delivery. Sfter that, Freedom will be her next partner. We simply cannot wait to see what Freedom and Demi Rose can produce.

Corazon's Dolcetta di Bella Vita


White, FemaleDOB: 09/06/2011


Sire: El Corazon di Bella Vita
S: NWA, LTD Haldane
S: Peruvian Hemingway G171 D: PPeruvian Esmeralda B4244
D: Cocoa Puffe
S: Sonny S124
D: Madonna A059
D: Shelley Fabares C252
Dam: Centaur's Darcy
S: Centaur
S: PCA Peruvian Microsoft
S: PPeruvian Camilio G4561
D: PPPeruvian Flirtation 5059
D: Peruvian Chie S: PPPeruvian Dracula 6016 D: PPPeruvian Melody 4906
D: SF Audena
S: WH Auden
S: PPPeruvian Legend 6008
D: NWA, LTD Brownie
D: Kiki
S: Chivay
D: Saltspring Miharo


We aquired Dolcetta at the same time as Demi Rose and her cria, White Rose from Chuck and Deb Powers. We had the same purpose in mind, provide our Snowmass Matrix Freedom a somewhat different genetic mix for the future, and for the growth of our breeding program. Dolcetta brings some impressive lineage, and we have great expectations for her. Dolcetta is currentlt being bred with Albus at Blue Gate Alpacas in Austin, Texas.